Translating proposal words into images
A number of required proposal pieces can also be represented in images alongside or in lieu of, text to help your reviewers find (and understand and assess) your research project. Effective use of graphics can reinforce a sense of reader confidence when it comes to research design, data management, implementation, and dissemination:
UML Activity Diagrams and Process Flow Charts are great options for demonstrating the moving parts of your project management plan and research approach.
Gantt Charts are highly effective for outlining project timelines, including dissemination plans.
Evaluation plans and logic models are best communicated in visual formats.
Suggestions
Simple representations of data are the most effective. The reviewers' ability to understand data declines as more variables are introduced. Research scientist and grant writing expert Dr. M.S. AtKisson advises, if you can't explain your visual in a sentence, you are asking too much of your graphic.
What is the reviewers' take-away from your graphic/image? Use the caption/header/title of your graphic to make it easy for reviewers to quickly understand what you need them to know (e.g., "High rates of successful implementation among K-3 students in Y3" vs. "Implementation results").
Curate your own collection of tables, graphics, and images from your field that catch your attention. Did that NSF-funded project at that other R1 institution use a heat map for their qualitative data? Save a copy in a "Dataviz Ideas" folder. Follow data viz on Twitter: @EdwardTufte, @evergreendata, @puddingviz, @UpshotNYT, #dataviz, #infographics. Save your favorites in your folder.
No Chartjunk. Edward Tufte, one of the most commonly cited data visualization experts, advocates that designers be cognizant of "chartjunk" --all visual elements that are either unnecessary or detract from the viewer's understanding. Less is more. More whitespace is even better. Go beyond default shapes and layouts. Limit gridlines, shadow effects, legends, background colors, and tick marks. A Federal Example of "Chartjunk."

Use visual tools to draw the reader's attention to the most important features of the data. Gray out to de-emphasize less important information. Use bold, arrows, color changes, call-outs, or sidebars to emphasize results you want the reviewer to see in your graphic. Label series directly to reduce the burden of interpretation.
Figure 1. An Example of (a) An Effective Graphic Heading; (b) Directly labeling a series; and, (c) Focusing on Important Data Features. Retrieved from "How to Communicate Odds Ratios" (Evergreen).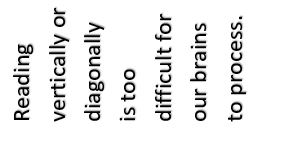 Seek external feedback. Ask, "Does my graphic...
Clearly indicate the nature of the relationship?
Represent the quantities accurately?
Make it easy to compare quantities?
Make it easy to see the ranked order of values?
Make it obvious how people should use this information?"

Make thoughtful color choices such as using acolor blind safe palette. A considerable number of people are affected by color vision deficiencies. Color Oracle can simulate what those with visual impairments see. Also review these helpful tips for designing scientific figures for color blind readers. Furthermore, your proposal may be printed in black and white by the reviewer (e.g., NSF encourages limited use of color). Conduct a test print to verify that your graphic uses high contrasting colors that can be easily interpreted in grayscale.