IUPUI entrepreneurs seek to quantify pressure applied during manual therapy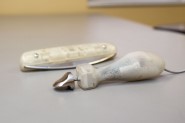 Physical and occupational therapists, athletic trainers, chiropractors, veterinarians, and other medical professionals could improve the outcomes of manual therapy to treat soft-tissue injuries by using patent-pending, handheld instruments being developed by IUPUI entrepreneurs.
Health Smart Technologies Inc., a medical device startup, is developing a force-sensing instrument system called Quantifiable Soft Tissue Manipulation, or QSTM, that can quantify the forces applied during manual therapy. A metal tip on each device transmits the applied forces to a 3D load cell that sends measured force signals to a microprocessor. The microprocessor computes the pressure, angle, duration and stroke frequency of the tool during targeted soft-tissue manipulation. The information can be displayed on a laptop computer or a tablet for real-time monitoring and recording of relevant data.