IU School of Medicine forms research collaboration with Lung Biotechnology PBC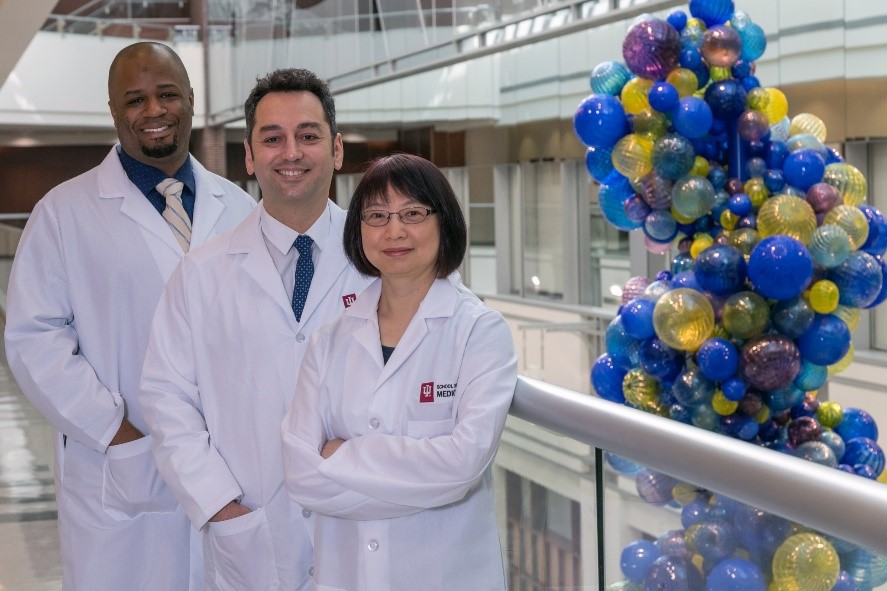 The ability to artificially grow organs may seem futuristic, but Indiana University School of Medicine researchers are closer to enabling that reality than you may think.
Burcin Ekser, MD, PhD, assistant professor of surgery at IU School of Medicine, and his research team are working to print 3D pig liver tissue from genetically engineered pig liver cells. Then, they use this 3D-printed tissue to develop new research models for xenotransplantation, or cross-species transplantation.
Dr. Ekser, who is director of the school's xenotransplantation research lab, recently secured a four-year, $9 million sponsored research agreement from Lung Biotechnology PBC, a wholly-owned subsidiary of United Therapeutics Corporation. Lung Biotechnology is a Maryland-based company focused on organ transplantation technologies, including through xenotransplantation.
According to the latest data from the Organ Procurement and Transplantation Network, there are more than 110,000 people in the United States waiting for a life-saving organ transplant, and each day, about 20 people die while waiting for a transplant.
"This alliance with Lung Biotechnology will greatly enhance our ability to accomplish our ultimate goal of providing an unlimited supply of organs to save human lives," Dr. Ekser said. "It's my passion because I'm a transplant surgeon; I don't want anyone to die while they're waiting for a transplantable organ."
Anantha Shekhar, MD, PhD, IU School of Medicine's executive associate dean for research affairs, said the collaboration with Lung Biotechnology aligns with the school's goal to work with industry to speed the translation of scientific discoveries to patients.
"We want to make discoveries and conduct research that will help patients as quickly as possible," Dr. Shekhar said. "One of the most effective ways to do this is to collaborate with private industry. Lung Biotechnology and its CEO Dr. Martine Rothblatt are great collaborators for IU School of Medicine to make this happen, and Dr. Ekser is a wonderful example of how our researchers can work within the public and private sectors to be innovative and develop real solutions for patients."
Dr. Ekser said in addition to the industry collaboration, IU School of Medicine also provides a great environment to enable his research.
"IU Health has one of the best clinical transplantation institutes in the nation and IU is home to some of the best transplant and immunology researchers in their fields," Dr. Ekser said. "Together with the university's 3D bioprinting technology, it's a powerful combination for our xenotransplantation research lab."
IU School of Medicine is home to a unique, scaffold-free Cyfuse Regenova 3D bioprinter that is part of the school's 3D Bioprinting Core. IU was one of the first academic institutions in the U.S. to get this bioprinter and is now one of only two academic sites in the country with the technology.
So far, Dr. Ekser and his collaborators, Lester Smith, PhD, manager of the bioprinting core and assistant professor of radiology and imaging sciences at IU School of Medicine, and Ping Li, PhD, assistant research professor of surgery at the school, an expert in genetic engineering and a senior researcher in the xenotransplantation research lab, have for the first time in literature bioprinted genetically engineered pig cells and continuously perfused a scaffold-free 3D bioprinted pig liver model for one week.
The research is important, Dr. Ekser said, because it will allow many different combinations of genetics to be tested quickly and efficiently, thereby improving the probability of developing an organ that patients will not reject. "That's the reason that we do 3D bioprinting in xenotransplantation research," he said. "It saves lives, saves money, saves time, saves effort… and it still gives us the answers we want."
The team also plans to create a library of pig genes and phenotype responses to document and eventually share their findings with the scientific community.
This research is supported by the IUPUI Office of the Vice Chancellor for Research and the Indiana Clinical and Translational Sciences Institute, which is a statewide research partnership among IU, Purdue University and the University of Notre Dame.