IU Life Sciences to Healthcare Solutions Pitch Competition 2023 
April 20, 2023 | 8:30 AM - 11:30 AM 
Location: Indiana Biosciences Research Institute. 1210 Waterway Blvd, Indianapolis, Indiana
Hosted by IU Research and IU Innovation and Commercialization Office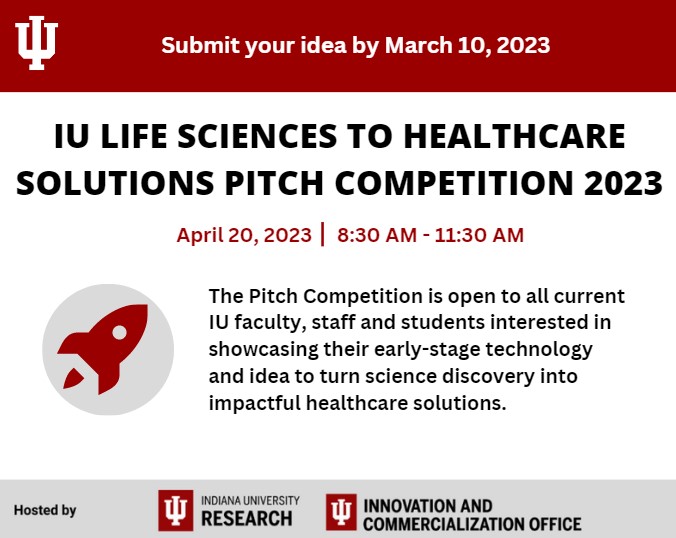 Indiana University is a leading institution in life science research and medical innovation. To amplify IU research impact in life sciences, IU Innovation and Commercialization Office (ICO) is developing a life sciences catalyst program to enhance the transformation from discovery research to impactful healthcare solutions. We strive to improve the probability of success in turning discovery research into healthcare solutions. As part of the strategic plan, IU Research and IU Innovation and Commercialization Office (ICO) is organizing an inaugural IU Life Sciences to Healthcare Solutions Pitch Competition on April 20, 2023. This is to provide an opportunity for IU faculty, staff, and students, to showcase their early-stage technology and idea to turn science discovery into impactful healthcare solutions.
Eligibility
Current IU faculty, staff, students
IU-IP based technologies preferred
Technologies for startup or licensing opportunities: therapeutics, medical device, diagnosis, tools/platform for drug discovery, drug delivery, healthcare IT/App
Existing startup not eligible
---
How It Works
The selection of the top six participants to advance to the finals are at the sole discretion of ICO. Technologies coming from IU research and with IU IP will receive priority consideration. ICO will select the finalists to advance to the final pitch competition by March 20, 2023. The top six teams (or individuals) will present their technology and idea to a panel of fellow entrepreneurs, investors, and experienced judges. Each participant will deliver a 5-minute pitch, followed by a 5-minute Q&A session. The judges will select the winners. The in-person competition will be located at Indiana Biosciences Research Institute in Room 1036.
---
Prizes
The 1st place winner will receive cash award with certain terms and conditions. The award can only be used for forming an IU startup and/or for further developing the technology to make it more attractive for commercialization via licensing or startup formation.
---
How to Apply
Submit a non-confidential executive summary of your technology and idea that address the following:
The problem: What problem are you solving?
The solution: What's the solution? Who is the solution for? Why does this need to be solved?
Competitive landscape: Current solutions and competitors in this space
Unique value proposition: Why is your solution unique and valuable for the customer?
Use of Fund: What do you plan to use the award money for? What's the expected impact?
Submit your idea in PDF or word to ico@iu.edu by March 10, 2023.
---
*The competition is a voluntary program to engage current IU faculty, staff, and students. As a participant, you understand all discussions during the program are non-confidential and agree to discuss your ideas voluntarily. By submitting your idea, you understand and agree that the organizer assumes no responsibility to ensure confidentiality of any information disclosed during the competition and that you are solely responsible for not disclosing any confidential information.